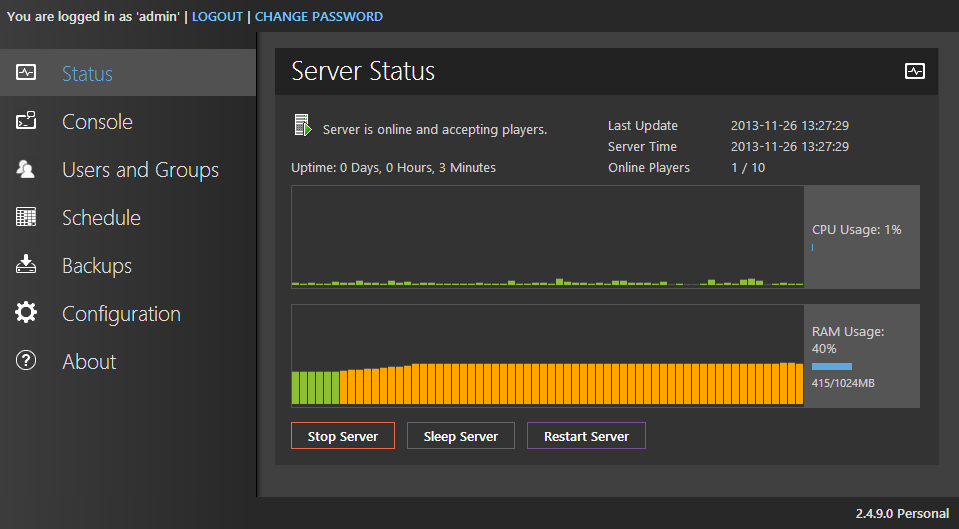 McMyAdmin Status screen. Everything you need to know about your server at a glance.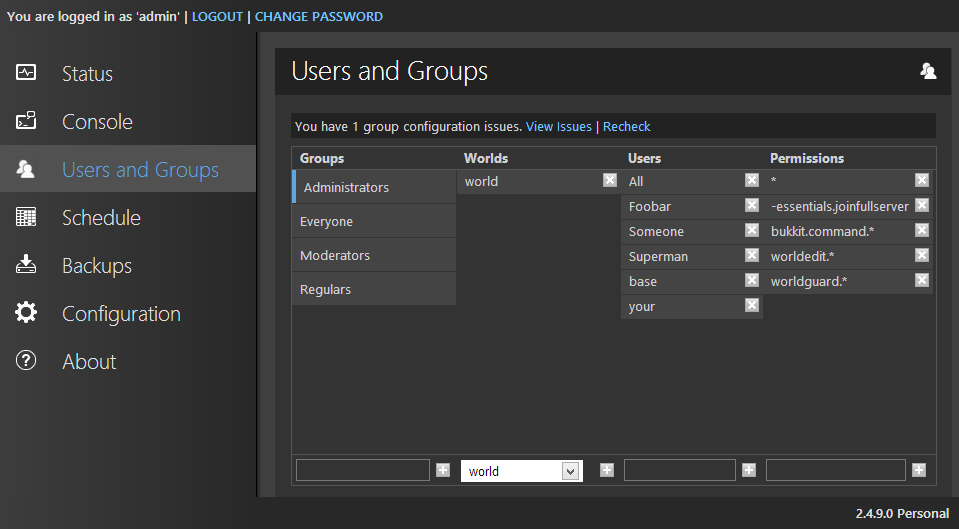 Manage your servers permissions, right from the control panel. No hand-editing YML files.
McMyAdmin 2
The Minecraft Control Panel
Easy to install, get going in 2 minutes
No extra software to configure or install*
Gorgeous and functional
McMyAdmin is the leading web control panel and administration console for Minecraft servers, trusted by over 75000 server admins and more than 35 different service providers.

More servers run McMyAdmin than any other available Minecraft control panel -
Find out why
McMyAdmin 2
Windows, Linux, BSD, Mac OS
* Supported OSs only. BSD, Mac OS and 32-bit Linux systems require the Mono Runtime.
Java is required to run the Minecraft server itself.
Why use McMyAdmin?
More than 75000 Minecraft servers worldwide are powered by McMyAdmin. So what's in it for you?
Security taken seriously
McMyAdmin is the only Minecraft admin panel to undergo independent penetration testing by a CREST approved security specialist.†

We work with Dionach - a leading CREST approved independent information security specialist to ensure that McMyAdmin complies with best security practices and is as secure as possible against potential attacks.
Easy to install, easy to use
No webserver to configure, no database to set up. McMyAdmin includes almost everything you need to get going quickly and with minimal fuss.

Most common administrative tasks can be performed via the friendly user interface, no need to edit text files or write scripts.
Free to try
McMyAdmin Personal includes almost all the functionality of McMyAdmin Professional, allowing you to see how great McMyAdmin is before you buy.

See the Editions page to compare versions.
Regular Updates
McMyAdmin has enjoyed the benefit of over 3 years of updates and improvements, and continues to get regular updates to add new features, support new mods or support the latest version of the Minecraft server.
We Listen
Anyone can suggest new features or changes they'd like to see in McMyAdmin via our support page. If it gets enough votes, we start looking at how it can be brought on board. So far we've brought on over 60 user suggestions into McMyAdmin.
Manage from anywhere
You can administer your server from anywhere with an internet connection. The McMyAdmin user interface works great on tablets, or you can use the McMyAdmin Mobile app* for iOS. (And we've got an Android version on the way!)
Great for hosts
No complex licencing systems or provisioning requirements. McMyAdmin is easy to manage in either VPSs or shared-hosting environments. Fully configurable via command line arguments for ease of deployment. Works on both Windows Server and GNU/Linux based servers.
Reduce server costs
McMyAdmin has a unique server sleeping feature not found in any other control panel. It allows you to save resources by stopping the Minecraft server, but still be able to accept players. When a player connects, the server is woken up. The entire process is quick, seamless, fully automated, and turned on with just a single setting.
Reduce support costs
Users can perform most common administrative tasks such as performing updates, installing plugins or changing the server configuration without ever having to touch a configuration file, it's all kept plain and simple. This translates into fewer support requests and less downtime from user issues.
* Sold Separately
† As of Oct 1st 2013
Download McMyAdmin 2
Select your platform:
Download Installer
For 32 and 64 bit systems
Windows XP/Server 2003 or newer
Download Installer
For 64 bit systems only
All GNU/Linux distributions
Required Files
For 64 bit systems only
All GNU/Linux distributions
Download
For 32 bit systems only
All GNU/Linux distributions
Download
For 32 and 64 bit systems
Mac OS X 10.4 and newer
Download
For 32 and 64 bit systems
BSD and other operating systems
Installing on 32-bit Linux, Mac OS and BSD
Under these operating systems, the Mono framework is required to run McMyAdmin as there is not a native version of McMyAdmin available for these platforms at this time.
For MacOS or openSUSE you can download Mono from the Mono Project download page - for 32-bit Linux and BSD, you install it via your distributions package manager.
Once Mono is installed, run the following as a non-root user:
mkdir ~/McMyAdmin
cd ~/McMyAdmin
wget http://mcmyadmin.com/Downloads/MCMA2-Latest.zip
unzip MCMA2-Latest.zip
rm MCMA2-Latest.zip
mono McMyAdmin.exe -setpass [YOURPASSWORD] -configonly
You can then start McMyAdmin by running:
cd ~/McMyAdmin; mono McMyAdmin.exe
Note that you must change to the directory McMyAdmin is installed to before running it. You cannot run it using a relative or absolute path.
Installing on Windows
McMyAdmin requires the .Net Framework 3.5 SP1 to be installed. Most systems have it already installed, otherwise you can download it from the Microsoft Download Center.
Under Windows Server, you need to install the .Net 3.5 Feature via the Server Manager.
For Windows Server Core editions without a GUI, you can download the core archive directly instead of using the GUI installer. A readme file is included with instructions on installing the service via the command line.
Installing on 64-bit Linux
Run the following as root:
cd /usr/local
wget http://mcmyadmin.com/Downloads/etc.zip
unzip etc.zip; rm etc.zip
Then run the following as a non-root user:
mkdir ~/McMyAdmin
cd ~/McMyAdmin
wget http://mcmyadmin.com/Downloads/MCMA2_glibc25.zip
unzip MCMA2_glibc25.zip
rm MCMA2_glibc25.zip
./MCMA2_Linux_x86_64 -setpass [YOURPASSWORD] -configonly
You can then start McMyAdmin by running:
cd ~/McMyAdmin; ./MCMA2_Linux_x86_64
Note that you must change to the directory McMyAdmin is installed to before running it. You cannot run it using a relative or absolute path.
Thank you for purchasing McMyAdmin Professional
If you paid using an eCheque or other non-instant payment method, your licence key will be sent as soon as your payment has been cleared.
If you used an instant payment, your licence key has been sent to the primary email address associated with your paypal account. In most cases you should receive your key almost instantly, but please allow up to an hour for delivery.
Thanks for your support, and enjoy McMyAdmin.
Regards,
The CubeCoders Team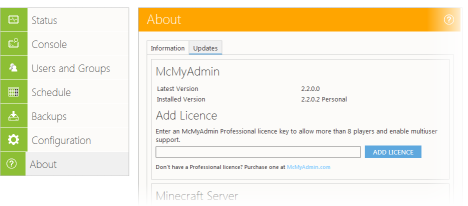 Once you've recieved your key, you can add it to your McMyAdmin installation via About -> Updates in the control panel.
Purchase McMyAdmin Professional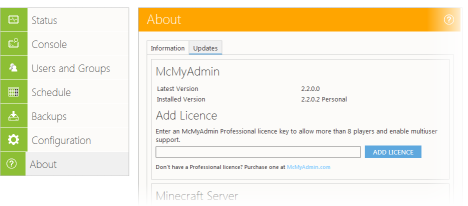 Once you've recieved your key, you can add it to your McMyAdmin installation via About -> Updates in the control panel.
Terms of Sale
What is being purchased
The sale is of a licence along with a licence key to use McMyAdmin Professional Edition. It may be used with as many instances of the McMyAdmin software as have been purchased. For example, running two instances of McMyAdmin Professional on the same computer requires two licences.
You are not buying a copy of the McMyAdmin software in of itself, nor are you purchasing a physical item.
Licence usage
McMyAdmin Professional licences are for non-commercial, personal use by an individual or organisation.
McMyAdmin licences may not be resold, loaned or transferred to another person or organisation without the express written permission of CubeCoders Limited. You may not sell or supply servers or services to other persons with McMyAdmin installed without a commercial usage agreement.
Revocation of licence
If an issued licence key is used in a manner other than prescribed in this agreement, CubeCoders Limited may revoke and disable all licences owned by the customer without notice.
In the event of a payment dispute such as a chargeback or reversal, CubeCoders Limited may revoke and disable the licence along with any other licences owned by the same person or organisation.
Refunds and exchanges
Refunds and exchanges are issued at the sole disctretion of CubeCoders Limited. There is no fixed policy on when refunds or exchanges are issued and each request is evaluated on a case-by-case basis.
Refund requests resulting from technical issues using the software will generally not be accepted unless absolutely all avenues of support have been exhausted, as users are free to evaluate the software before purchasing a licence. Technical support is freely available to all users.
McMyAdmin Support
Please select from one of the following options:
Notice: Support Outages for 2014
There are no currently planned support outages.
Official support is available Monday to Friday, between 10AM and 4PM GMT.
McMyAdmin Enterprise Details Request
Please fill in the form below to request a quote for your business
About McMyAdmin Enterprise
McMyAdmin Enterprise licences permit the holder to distribute McMyAdmin installations, or provide servers with McMyAdmin pre-installed on them for use by their customers.
The licence also unlocks special enterprise-exclusive features, such as LDAP based authentication, host login access (without needing the customers login details), the ability to force settings upon the Minecraft server despite changes made by customers, and greater API access to ease server configuration.
It also includes dedicated support, allowing you to get a human answer to questions or to help you with any issues you may have deploying McMyAdmin
McMyAdmin for schools and educators
If you represent a qualifying school or educational facility, you can use McMyAdmin Professional for free!
To qualify, the facility must meet the following requirements:
The facility must be purely state funded, recieving no financial assistance from corporations, students, or any other sources.
McMyAdmin must only be used for Minecraft servers used in an educational setting. This excludes usage such as video-games clubs.
The McMyAdmin installation must be either on-site or on a server rented/owned by the facility administration.
You must have a private .ac/.edu/.gov or similar email address. Freely available email addresses that anyone can obtain will not be accepted.
You must be a teacher, lecturer or faucilty member. Students are not able to apply for this offer.
If believe your facility is eligible, you can request more information via the contact form.
Please include the following details when you contact us:
Your full name and job title.
The full name of your school or facility, including its postal address and website.
A short paragraph about how you intend to use Minecraft in an educational context.
Note that requests that do not include the above information will not be accepted.
Contact Us
Please note that this is not used for technical support and is intended primarily for billing issues or commercial enquiries.
Message Sent
Thank you for your enquiry. We'll try to get back to you as soon as possible.
Typical turnaround time is 2-3 working days
Regards,
The CubeCoders Team
Message Not Sent
There was a problem sending your message. Please try again later.
McMyAdmin Editions
Educators get McMyAdmin for free! Learn More.
There are 3 different editions of McMyAdmin for different usage scenarios:
Personal
Professional


For server owners

Enterprise


For hosting companies

Cost
Free
£10 GBP per Minecraft server


One-time payment

Get a quote
Support Level
Community Supported


Forums and IRC

Community Supported


Forums and IRC

Dedicated Support


IRC, Email and VoIP

In-game player limit *
Max 10 players
Unlimited
Unlimited
Multi-user Support
Max 3 users
Unlimited
Unlimited
Multi-world Support


Supported server mod required

✓
✓
✓
Available for use by individuals
✓
✓
✕
Allows for commercial usage


By service providers or resellers

✕
✕
✓
Secondary host access login
✕
✕
✓
LDAP Authentication Support
✕
✕
✓
Priority bug fixes
✕
✕
✓
Regular Automated updates
✓
✓
✓
Remote API Access
✓
✓
✓
Advanced configuration API
✕
✕
✓
* The personal version also announces "This server is running McMyAdmin Personal" to connecting players.